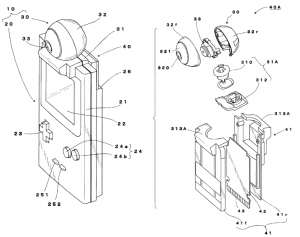 On May 1, The Rutgers-Camden Digital Studies Center will officially launch the Rutgers-Camden Archive of Digital Ephemera (R-CADE). The R-CADE is a collection of hardware and software made available to scholars for research purposes. Unlike many archives, the R-CADE does not necessarily aim to preserve these artifacts, at least not in the traditional sense of this word. Scholars are free to take apart, dissect, and repurpose artifacts in the R-CADE as they attempt to understand their historical and cultural significance.
The May 1 launch event will focus on the GameBoy Camera, which was one of the earliest digital cameras on the market and which also allowed users to take pictures of themselves three years prior to the emergence of the term "selfie." Scholars will convene to discuss the device's historical and cultural significance and to share their own attempts to remake and repurpose the camera.
The event will include both a workshop and a panel discussion about the object. During the workshop, Patrick LeMieux (Duke University) will lead a group of students and faculty in hacking and reconfiguring the GameBoy Camera. Workshop participants will construct their own GameBoy cartridges. During the afternoon panel discussion, a group of scholars will share their investigations into the GameBoy camera. That panel discussion will feature: Elizabeth Demaray (Associate Professor of Fine Art, Rutgers-Camden), Meredith Bak (Assistant Professor of Childhood Studies, Rutgers-Camden), Grant Wythoff (Postdoctoral Fellow in the Society of Fellows in the Humanities, Columbia University), and Patrick LeMieux (Ph.D. student in Media Arts+Sciences, Duke University).
The workshop will take place in the ModLab (Fine Arts 215) from 10:00am until 1:00pm, and the panel discussion will take place in Fine Arts 110 from 1:30pm until 3:30pm. Both events are open to the public.