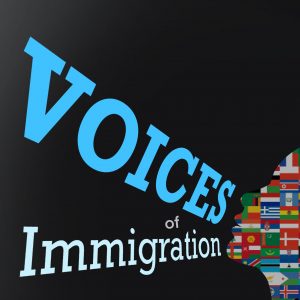 Voices of Immigration is an interdisciplinary research podcast through DiSC at Rutgers University-Camden. Our podcast contextualized immigrant stories and touches on issues such as contemporary issues such as the Muslim Ban, DACA, and stereotypes. The goal is to investigate these broader topics and tell the stories of these issues. We are starting off by telling the stories of students throughout our campus and what their experience has been for the country they call home. It will be doing things such as bringing in guests for interviews so they can tell their stories as immigrants.


Episode 1: Our Immigrant Stories

Welcome to our podcast! In this first episode, you'll hear from Rutgers University-Camden students, Tania Martinez and Sandra Benjamin, about their own immigrant experiences and the impact it has had on their lives, in what ways they help advocate for the immigrant community, and what this podcast series seeks to achieve for its viewers and participants. Thanks for listening and we hope you enjoy!

Resources:

Adams, Derek, et al. "Third of International Students in US 'Discriminated against'." Times Higher Education (THE), 20 Nov. 2019,
www.timeshighereducation.com/news/third-international-students-us-discriminated-against

"Why People of Color Are Suffering More from COVID-19." Tufts Now, 13 July 2020,
now.tufts.edu/articles/why-people-color-are-suffering-more-covid-19.

"Coronavirus: Why Some Racial Groups Are More Vulnerable." BBC Future, BBC,
www.bbc.com/future/article/20200420-coronavirus-why-some-racial-groups-are-more-vulnerable.

Stephanie Soucheray | News Reporter | CIDRAP News | Aug 14, 2020. "US Blacks 3 Times More Likely than Whites to Get COVID-19." CIDRAP, 14 Aug. 2020,
www.cidrap.umn.edu/news-perspective/2020/08/us-blacks-3-times-more-likely-whites-get-covid-19.

Survey: International Students' Main Concerns Center on Issues of Health, Safety and Immigration, www.insidehighered.com/news/2020/07/01/survey-international-students-main-concerns-center-issues-health-safety-and.
Episode 2: COVID-19 Failures

In this episode, we explore how the start of the pandemic negatively affected the immigrant community. First, we talk about the hardships faced by international students when a number of institutions failed to act. Next, we talk to a student advocate about how they stepped in to provide COVID-19 aid for those excluded. Finally, we explore the broader impact of the pandemic, addressing the failures of government institutions and employers.

Resources:

Himali Bhatt, MD. "Impacts of COVID-19 on Relief-Seeking Immigrant Children." Primary Care Blog, info.primarycare.hms.harvard.edu/blog/covid-immigrant-children.

Tomassi, Alexa. "Children Are at High Risk for COVID-19 Infection in Border Detention Facilities." Yale School of Medicine, Yale School of Medicine, 16 Apr. 2020,
medicine.yale.edu/news-article/24019/.

Midwest New Media, LLC – www.midwestnewmedia.com – (513) 742-9150. "Workplace Fairness." Undocumented Workers,  www.workplacefairness.org/undocumented-workers#:~:text=Undocumented%20workers%20in%20the%20United,discrimination%20based%20on%20citizenship%20status.

Birkeland, Bente, and Jenny Brundin. "Colorado's Undocumented Immigrants Have Been Shut Out Of Benefits And Licensed Jobs For 15 Years. A New Bill Would Change That." Colorado Public Radio, Colorado Public Radio, 23 Feb. 2021, www.cpr.org/2021/02/22/colorados-undocumented-immigrants-have-been-shut-out-of-benefits-and-licensed-jobs-for-15-years-a-new-bill-would-change-that/

"COVID-19 Impacts on Immigration Detention Global Responses 2020." International Detention Coalition,
idcoalition.org/wp-content/uploads/2020/10/COVID-19-Impacts-on-Immigration-Detention-Global-Responses-2020.pdf.
Episode 3: DACA: A Dream Delayed

In this episode, we are talking about Dreamers and what their experiences have been like since Biden was elected into office.  We bring on Erika Martinez, a student that advocates for immigrant rights, and she speaks about her experiences as an undocumented person.  We also bring on Jason Hernandez to speak about the technical updates regarding DACA.

Resources:

"Kamala Harris Tells Guatemala Migrants: 'Do Not Cometo US'."BBC News, BBC, 8June 2021,
www.bbc.com/news/world-us-canada-57387350.

Hackman, Michelle. "Biden Administration Threatensto Sue Texas Over SheltersHousing Immigrant Children." The Wall Street Journal,Dow Jones & Company, 8June 2021,
www.wsj.com/articles/biden-administration-threatens-to-sue-texas-over-shelters-housing-immigrant-children-11623154103

Sangani, Priyanka. "Immigration Lawsuits Continue Well into Joe Biden Term." TheEconomic Times,
economictimes.indiatimes.com/nri/migrate/immigration-lawsuits-continue-well-into-joe-biden-term/articleshow/83307496.cms