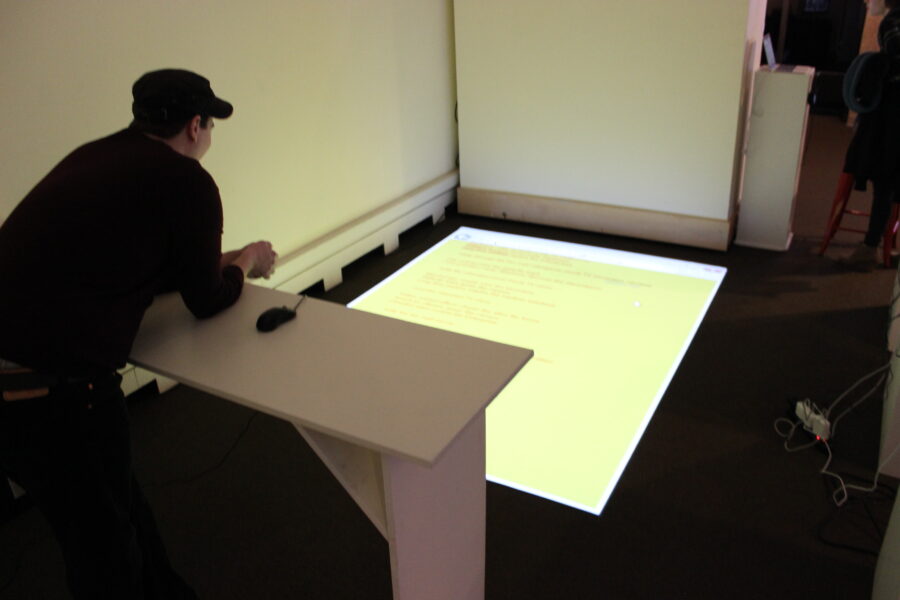 From January 19, 2016 through April 21, 2016, The Stedman Gallery will host an electronic literature exhibition entitled "Electronic Literature: A Matter of Bits." The exhibition is sponsored by the Digital Studies Center and was curated by Director Jim Brown and Associate Director Robert Emmons.
Since at least the 1970s, authors, artists, and computer programmers have been exploring the literary potentials of digital computing. The Electronic Literature Organization (ELO) describes electronic literature as having "important literary aspects that take advantage of the capabilities and contexts provided by the stand-alone or networked computer." Much of this work might strike us as ephemeral or lacking the same physical materiality as print-based literature, but writers, artists, scholars, and critics have continued to question this commonplace. Silicon and bits are no doubt different from print and ink, but the "Matter of Bits" exhibition will demonstrate how electronic literature relies on any number of materialities for its existence. Featuring work from around the world, this exhibition displays works of electronic literature on a range of devices, from a Commodore 64 to a Microsoft Kinect to an Oculus Rift Virtual Reality headset.
In addition to raising these important questions about materiality, this exhibition will also host the launch of the Electronic Literature Collection, Volume 3. Published by the Electronic Literature Organization, this collection gathers together historical and contemporary works of electronic literature from around the world. "A Matter of Bits" will feature a number of works from this brand new collection, works that push us to consider how electronic literature helps us think differently about literature in the digital world.