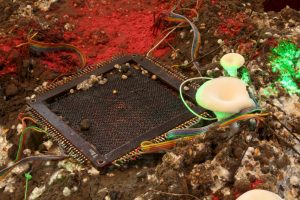 Stedman Gallery
Third and Pearl Streets Camden, NJ 08102
September 5 – December 7, 2018
In Fall 2018, DiSC will collaborate with the Rutgers-Camden Center for the Arts on an exhibition that addresses the material impacts of digital technology.
It is easy to consider digital life in terms of abundance. Photos are immediately saved to the cloud, and even spam is archived in our Gmail accounts. The "Trash" icon on our desktop is vestigial, left over from a moment when hard drive space was a concern. But the notion that the digital offers infinite resources is a fiction. The Internet is not an unlimited space of pure virtuality; it is a collection of server farms gobbling up energy spewing carbon dioxide. Digital devices are constructed from mined materials that exploit workers and economies, and those same devices are dumped without much concern for environmental impact. The work featured in "Digital Trash" turns our attention to how digital technologies are playing a central role in the anthropocene, the historical era marked by significant human impact on our ecosystems. This exhibition features work that highlights that impact, bringing to our attention how digital technology produces vast amounts of trash.
Digital Trash is curated by James Brown, Director, DiSC and Robert Emmons, Associate Director, DiSC. The exhibition includes work by: Abraham Avnisan, Judd Morrissey and Jennifer Scappettone (USA); Katharine Behar (USA); J. R. Carpenter (UK); Martin Howse (UK); Chris Jordan (USA); Joana Moll (GER); Steve Rowell (USA); Times of Waste Research Team: Flavia Caviezel, Mirjam Bürgin, Anselm Caminada, Adrian Demleitner, Marion Mertens, Yvonne Volkart, Sonia Malpeso (SUI); Pinar Yoldas (TUR); and Libi Striegl (USA).
Funding for this exhibition and programming has been made possible in part by an award from the National Endowment for the Arts; New Jersey State Council on the Arts/Department of State, a Partner Agency of the National Endowment for the Arts; The Geraldine R. Dodge Foundation; Subaru of America Foundation; and Rutgers, The State University of New Jersey.